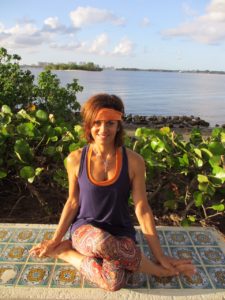 Lauren Llacera, Registered Yoga Teacher certified by the Yoga Alliance, believes that there is an Infinite Energy of Radiance and Joy that exists in each and everyone of us. Her Teaching style ignites that beautiful light through dynamic, creative Vinyasa flows and slow, deep, inward-looking Yin/Restorative practices. She created sequencing called ChakraFlow where she awakens, transforms and balances Energy through the 7 main Chakras (energy centers) of the body.  By bringing awareness of the properties of each Chakra, Lauren invites an inner journey of mind and spirit with a dissolution of physical energy blockages leaving the Yogi with a profound feeling of enlightenment, freedom and joy.
When she's not on her mat, Lauren enjoys to be connected with Nature….she's an avid kayaker who revels in the tranquility of the water and limitlessness of the sky, a gardener who loves to nurture a seed to flower, a back roads cyclist, and a passionate beach walker. She's recently discovered the thrill of Surfing and the joy that follows catching a wave.
Always looking to live Life to its fullest, she follows the words of Lao Tzu: a Journey of a thousand miles begins with a single step.
Lauren lives in West Palm Beach, Florida, teaches yoga at local yoga studios, at Eau Spa Palm Beach, a Forbes five star resort, and for SwellWomen Luxury Surf and Yoga Retreats.
Follow Lauren on Instagram:  https://www.instagram.com/laurenllacera
Events with Lauren Llacera ~ Yoga Instructor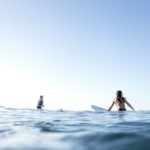 SwellWomen El Salvador Surf & Yoga
November 7, 2020
Your Bliss Awaits in El Salvador Perched on a cliff in front of a world class point break, Puro Surf Hotel and Performance Academy has been set up by a group of surfers that are passionate about the sport of surfing making them the perfect venue partner for SwellWomen.   The team deeply cares about their country and the community they live in and want to share the life they love with you. Terracing gently down towards the beach, each room has been thoughtfully designed to make the most of the views. Floor to celling sliding glass doors allow you to open your…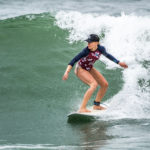 SwellWomen Costa Rica Surf & Yoga Retreat June21
June 6, 2021
Your Bliss Awaits in Costa Rica Fall asleep to the lull of distant waves. Awake to the sunrise and the call of howler monkeys.  As you make your way to the main dining area for breakfast, you're sure to be greeted by wild monkeys, toucans, macaws, sloths and other creatures of the rainforest. Our bungalows at Osa Clandestina are nestled in the Rainforest Reserve just a 5 minute walk from the beach and Pan Dulce Surf Break.  We offer comfortable open-air bungalows with a casual elegance surrounded by lush gardens and a hundred acres of our private rainforest reserve.   All bungalows have ceiling fans (no…