El Salvador Surf & Yoga (co-ed)
With Lulu Agan ~ Owner & Chief Officer of Bliss, Katy Cox ~Yoga Instructor & Body Work Therapist and Vivian Luo ~ Yoga Instructor
February 25 - March 4, 2017
Your Bliss Awaits in El Salvador
Playa Las Flores is a dramatic, natural cove, hemmed in by severe topography and dense tropical flora, a playful black sand beach bordering a cauldron of whitewater and waves detonating in the background, a throwback in time to a prehistoric vision of Central America where the tropical waters of the Pacific Ocean meet the charcoal sands of ancient volcanic outflows. Cast within this primordial setting, our Conde Nast Luxury boutique oceanfront resort is an environmentally conscious hotel designed to have a minimal impact on the landscape and ecosystem. Designed by a Salvadorian architect, the resort is a juxtaposition of the jungle and the sea— a reconciliation between our primeval yearnings and modern addictions following sustainable development guidelines.
This surf & yoga paradise is the perfect setting to relax, engage, explore, surf, sunbathe and stargaze.  Now doesn't that sound blissful?
Your Luxury Surf & Yoga Wellness Vacation in El Salvador Includes:
Seven night luxury accommodations at a gorgeous and breathtaking Boutique Hotel on a pristine sandy beach in front of the world class surf break.
All-inclusive food & non-alcoholic beverages prepared by an amazing local chef.
Each participant will receive a Swag Bag valued over $225.00 which includes a complimentary SPF rash guard.
6 x Surf lessons with professional, patient, and knowledgeable surf instructors & use of your board all day.
One photo shoot capturing your surfing highlights.
AM daily yoga classes ~ Vivian will teach a hybrid movement class that will strengthen and balance muscle groups for the surfer's body. The class will include a flow series to connect mind with body and breakdown bodyweight skills designed to improve your paddle and board performance.
PM daily restorative yoga ~

Katy will lead you through these blissful sessions that seek to achieve physical, mental and emotional relaxation with the aid of props.

Experience harmony and well-being with a professional spa massage by our on-site Therapist.
RT Transportation from the airport to the villa.
Surf Snacks throughout the week to help keep you fueled and nourished.
Note:   Gratuities are left to the discretion of the guest and based on their personal experience.
A Very Swell Day
How do we fit so much into one day? By taking care of all the details so that you can truly enjoy your surf camp vacation.
5:00am Light Pre-Surf Breakfast
6:15 – 8:30 am Surf Lessons / Surfing
Up until 11AM enjoy a Full Breakfast whenever you are done surfing
10:00am Yoga Session
12:00-5:00pm Lunch whenever you are ready and activities vary in the afternoon and include; free time, afternoon excursions, recreational surfing, and lounging by the pool, spa sessions, naps, etc.
5:00pm Sunset Yoga Class
7:00pm Group Dinner
The schedule may change according to surf conditions, destination or other events that may be added to your surf and wellness package. Do you need to participate in everything? We are here to provide many options for you to choose from. If you opt to relax by the pool the entire day or choose to participate in only one activity per day, you will be supported in that decision. It's your surf and yoga vacation, and we are here to accommodate you in whatever choice brings you the highest bliss.
Leaders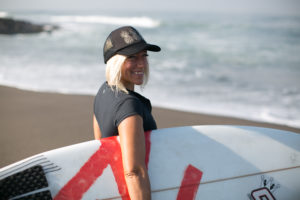 Lulu Agan ~ Owner & Chief Officer of Bliss
"Courage doesn't mean you don't get afraid.  Courage means you don't let fear stop you." – Bethany Hamilton Surfing, yoga, cooking and wellness: these 4 passions are what lead Lulu Agan, globe-trotting surfer and yogini, to SwellWomen which launched in 2003. Having spent more than a decade as a Private Chef and more recently getting certified as a Health & Wellness Coach with the Institute of Integrative Nutrition, Lulu cultivates a great knowledge and enthusiasm for top-quality cuisine that promotes glowing health, from the inside out.  As a supportive mentor and wellness authority, she works with clients to help them…
Learn more about Lulu Agan ~ Owner & Chief Officer of Bliss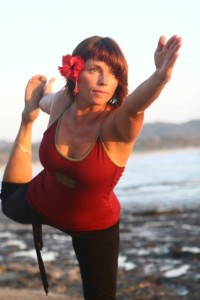 Katy Cox ~Yoga Instructor & Body Work Therapist
Having been raised since a child on a Macrobiotic diet and a holistic approach to health, Katy's personal journey to abundant wellness has been a life long practice.  Since deciding to focus on Nutrition and bodywork she has explored many dietary modalities, natural medicinal traditions and movement styles. She has studied and continues to explore: Nutrition (Certified BANT Nutritional Therapist), Raw Food Alchemy (Certified Chef Trainer Living Light Culinary Institute California, USA) and Yoga, which has been one of her integral practices for the past 20 years. She holds over 500hrs of certified training in a range of  yogic disciplines…
Learn more about Katy Cox ~Yoga Instructor & Body Work Therapist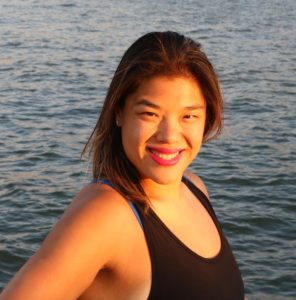 Vivian Luo ~ Yoga Instructor
Growing up on the west coast, Vivian cultivated a diverse athletic and sports background, playing volleyball since age five and later expanding to basketball, muay thai, swim, surf, scuba, and lacrosse. After moving to NYC, she continued to embrace athleticism in the form of high intensity classes, indoor rock climbing, road and obstacle races, strength training, and yoga. Vivian began her yoga practice to balance her body and was quickly captivated by the many benefits of practice. She firmly believes that students can achieve anything with a positive mindset and her classes aim to engage and challenge students of all…
Learn more about Vivian Luo ~ Yoga Instructor