Yoga Intensive in Belize with Vivian Luo
With Lulu Agan ~ Owner & Chief Officer of Bliss and Vivian Luo ~ Yoga Instructor
December 11 - 17, 2016
Your Bliss Awaits in Placencia, Belize
We invite you to indulge in an energizing experience for the body, mind & soul. Join our yoga instructor, Vivian Luo from New York City, for a six-night yoga intensive retreat on the white sand beaches of Belize.
Positivity, balance, and success form the basis of Vivian's classes. She firmly believes that students can achieve anything with a positive mindset and her classes aim to engage and challenge students of all levels to pursue progressive successes, physically and mentally. Throughout the week Vivian will take you through alternating Vinyasa flow and workshop style formats.
Placencia Peninsula, located south of Belize City, is Belize's 'Barefoot Perfect' destination. This 'Jewel of Belize' is known for having the best beaches in Belize, as well a unique village charm.  There are 16 miles of natural sandy beaches, virgin mangrove-fringed lagoon, coral-studden cayes, jungle rivers and pristine rain forests to discover along the Placencia coast.
YOUR RETREAT PACKAGE INCLUDES:
Six nights private accommodation at our lovely beach front property ~ Best Available/Ocean View not guaranteed.
Breakfast, lunch & dinner prepared by our on-site chef. (Lunch & Dinner beverages not included)
Twice daily meditation, yoga & workshops.

Vivian will be leading the group between vinyasa and workshop-style class formats throughout the week.

2 x 60 minute massages
Complimentary use of the resort's Hobie Cats, kayaks, pedal boats, fitness room, and bicycles.
RT Transportation from the airport to our resort ~ see travel policy.
Not Included:  International airfare to Belize City, Belize; airfare to Placencia; optional tours, dives, etc.
In addition to a week of yoga and re-connecting to yourself, you will have the opportunity to choose from a vast array of Belize's most sought after activities, including:
Beach combing– Find peace and fresh breezes on the Caribbean white sand beach.
Fresh water swimming pools– Enjoy three beach-front freshwater swimming pools.
Canoeing & kayaking– Set out to explore the calm Caribbean waters or the Placencia lagoon in a canoe or kayak.
Biking– Travel to Placencia on land cruiser bicycles or just tour the local area.
Fitness room– Enjoy Robert's Grove Beach Resort workout facility equipped with free weights, machines, treadmills and stationary bikes.
Sailing– Set out on a day's adventure on one of Robert's Grove Beach Resort Hobie Cat sailboats, wind surfers, kayaks, pedal boats and more.
Dive Center– On-site, fully equipped, PADI 5 Star Certified Dive Center offering a variety of diving and snorkeling tours
Note ~ double occupancy is available upon request.  Please email for a quote.
Leaders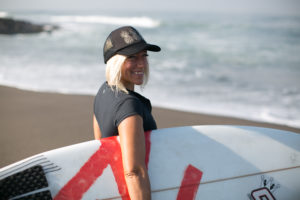 Lulu Agan ~ Owner & Chief Officer of Bliss
"Courage doesn't mean you don't get afraid.  Courage means you don't let fear stop you." – Bethany Hamilton Surfing, yoga, cooking and wellness: these 4 passions are what lead Lulu Agan, globe-trotting surfer and yogini, to SwellWomen which launched in 2003. Having spent more than a decade as a Private Chef and more recently getting certified as a Health & Wellness Coach with the Institute of Integrative Nutrition, Lulu cultivates a great knowledge and enthusiasm for top-quality cuisine that promotes glowing health, from the inside out.  As a supportive mentor and wellness authority, she works with clients to help them…
Learn more about Lulu Agan ~ Owner & Chief Officer of Bliss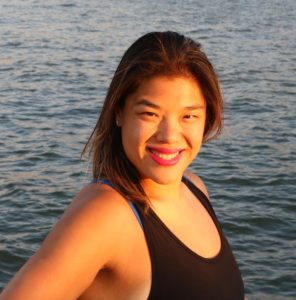 Vivian Luo ~ Yoga Instructor
Growing up on the west coast, Vivian cultivated a diverse athletic and sports background, playing volleyball since age five and later expanding to basketball, muay thai, swim, surf, scuba, and lacrosse. After moving to NYC, she continued to embrace athleticism in the form of high intensity classes, indoor rock climbing, road and obstacle races, strength training, and yoga. Vivian began her yoga practice to balance her body and was quickly captivated by the many benefits of practice. She firmly believes that students can achieve anything with a positive mindset and her classes aim to engage and challenge students of all…
Learn more about Vivian Luo ~ Yoga Instructor