SwellWomen Mini Escape ~ Nourish, Flow, & Glow
With Lulu Agan ~ Chief Officer of Bliss
June 22 - 25, 2017
A Journey in Creating Your Most Beautiful Life.
Escape to Key Largo, FL for a 4-day journey to your most Authentic Self. Highlights of your mini getaway include an organic blend of yoga and mediation to nurture your spirit, gourmet plant based meals prepared by our on-site Private Chef, and self care ritual workshops to take your every day living to the next level.
4 days of bliss will take place at our beautiful private sanctuary located in tropical Key Largo tucked away on three waterfront acres.  Largo Sanctuary is a peaceful island environment untouched by time and the cares of the outside world. Reconnect to the earth with walks beneath a canopy of proud Mahogany, Buttonwood and swaying Palm trees, be dazzled by the color of the indigenous orchids, and enjoy the crystal clear waters of the Gulf of Mexico's Tarpon Basin. Every evening breathtaking sunsets provide a backdrop for the dolphins and manatees that play in these waters. Enjoy the white sandy beach, lagoon pool, al fresco space and luxurious 21st century accommodations in this one of kind venue.
Transform your everyday life as you Nourish, Flow & Glow.
Your Luxury Wellness Retreat Includes:
3 x nights accommodation in your beautifully appointed shared bungalow.
All-inclusive of organic plant-based gourmet meals prepared by our Private Chef during your retreat.
Twice daily yoga and mediation sessions with the delightful Andrea Pertnoy
1-1 Mini Wellness Consultation with Andrea
Self Care Ritual & Food Prep workshops
Swag bag with lot's of surprises
A Swell Day
How do we fit so much into one day? By taking care of all the details so that you can truly enjoy your Mini Wellness Retreat.
7:00 am   Rise & Shine Yoga (60min)
8:30 am Breakfast
9:30 am – 12:30pm  – Free time, stand-up paddle boarding, kayak, lounging by the pool or beach, private wellness session with Andrea
12:30  Lunch
2:00-3:00 Wellness Group Workshop
3:00-4:00pm Free time
4:00-5:30pm Afternoon yoga or yoga workshop
6:00pm Dinner
The schedule may change according to weather or other events that may be added to your wellness package. Do you need to participate in everything? We are here to provide many options for you to choose from. If you opt to relax by the pool the entire day or choose to participate in only one activity per day, you will be supported in that decision. It's your wellness retreat, and we are here to accommodate you in whatever choice brings you the highest bliss.
Leader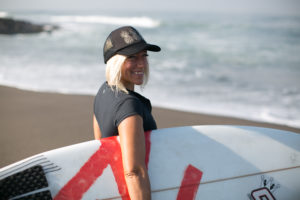 Lulu Agan ~ Chief Officer of Bliss
"Courage doesn't mean you don't get afraid.  Courage means you don't let fear stop you." – Bethany Hamilton Surfing, yoga, cooking and wellness: these 4 passions are what lead Lulu Agan, globe-trotting surfer and yogini, to SwellWomen which launched in 2003. Having spent more than a decade as a Private Chef and more recently getting certified as a Health & Wellness Coach with the Institute of Integrative Nutrition, Lulu cultivates a great knowledge and enthusiasm for top-quality cuisine that promotes glowing health, from the inside out.  As a supportive mentor and wellness authority, she works with clients to help them…
Learn more about Lulu Agan ~ Chief Officer of Bliss