SwellWomen & Barnacle Babes El Salvador Surf & Yoga
With Lulu Agan ~ Chief Officer of Bliss and Jodi Mossop ~ Founder of Barnacle Babes
March 3 - 10, 2018
Warrior Women of the Sea unite in El Salvador!
Barnacle Babes partners with SwellWomen to launch a Surf, Yoga and Warrior Training Retreat in El Salvador.
And so she is! The ocean.
She is you, she is me, and she is part of us.
She is the mother, the sister.
She teaches, she soothes, she punishes but she protects.
She lifts, she builds and she breaks. She heals, she loves!
Barnacle Babe women are healers, risk takers, believers and dreamers.
They are mothers, daughters, fighters, survivors, educators, and doers!
Barnacle Babes is a journey into their passions, their fights, their callings and their love!
inspired by Jodi Mossop, founder of Barnacle Babes
Come join this magically, purposeful, educational and actionable Surf & Yoga Retreat that will prove to you what is possible, how it's possible and how we can come together to make a difference in the world and work together as Warrior Women of the Sea! To heal our planet. Beginning with our oceans.
Our retreat will take place at our Conde Nast Luxury boutique oceanfront boutique resort located at Playa Las Flores.  It's an environmentally conscious hotel designed to have a minimal impact on the landscape and ecosystem. Designed by a Salvadorian architect, the resort is a juxtaposition of the jungle and the sea— a reconciliation between our primeval yearnings and modern addictions following sustainable development guidelines.
This surf & yoga paradise is the perfect setting to relax, engage, explore, surf, sunbathe and stargaze.  It's an opportunity to connect with your Inner Warrior.  Now doesn't that sound blissful?
Your Luxury Retreat in El Salvador Includes:
Seven night luxury accommodations at a gorgeous and breathtaking Boutique Hotel on a sandy beach in front of the world class surf break.
All-inclusive food & non-alcoholic beverages prepared by an amazing local chef.
Each participant will receive a Swag Bag which includes a Carve Designs SPF rash guard and other goodies from the organizers and our sponsors.
6 x Surf lessons with professional, patient, and knowledgeable surf instructors & use of your board all day.
One photo shoot capturing your retreat highlights by Susan Knight.
Daily yoga classes that focus on opening and strengthening the muscle groups used for surfing, balancing & restoring the body after a day of surfing.
Barnacle Babes Warrior Training designed to connect you to your Inner Warrior, Your highest potential.
Experience harmony and well-being with a professional spa massage by our on-site therapist.
RT Transportation from the airport to the villa.
Surf Snacks throughout the week to help keep you fueled and nourished.
Note:   Gratuities are left to the discretion of the guest and based on their personal experience.
A Very Swell Day
How do we fit so much into one day? By taking care of all the details so that you can truly enjoy your surf camp vacation.
5:00am Light Pre-Surf Breakfast
6:00 – 8:00 am Surf Lessons / Surfing
Up until 11AM enjoy a Full Breakfast whenever you are done surfing
10:30am Yoga Session & Warrior Training
12:00-4:00pm Lunch whenever you are ready and activities vary in the afternoon and include; free time, afternoon excursions, recreational surfing, and lounging by the pool, spa sessions, naps, etc.
5:00pm Sunset Yoga Restorative Class
6:30pm Group Dinner
The schedule may change according to surf conditions, destination or other events that may be added to your surf and wellness package. Do you need to participate in everything? We are here to provide many options for you to choose from. If you opt to relax by the pool the entire day or choose to participate in only one activity per day, you will be supported in that decision. It's your surf and yoga retreat, and we are here to accommodate you in whatever choice brings you the highest bliss.
Leaders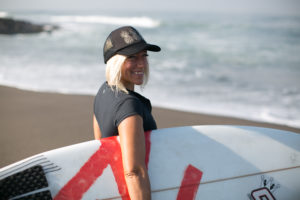 Lulu Agan ~ Chief Officer of Bliss
"Courage doesn't mean you don't get afraid.  Courage means you don't let fear stop you." – Bethany Hamilton Surfing, yoga, cooking and wellness: these 4 passions are what lead Lulu Agan, globe-trotting surfer and yogini, to SwellWomen which launched in 2003. Having spent more than a decade as a Private Chef and more recently getting certified as a Health & Wellness Coach with the Institute of Integrative Nutrition, Lulu cultivates a great knowledge and enthusiasm for top-quality cuisine that promotes glowing health, from the inside out.  As a supportive mentor and wellness authority, she works with clients to help them…
Learn more about Lulu Agan ~ Chief Officer of Bliss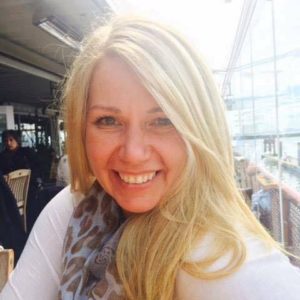 Jodi Mossop ~ Founder of Barnacle Babes
Founder and CEO of Barnacle Babe Productions Inc. (aka Barnacle Babes), an international magazine, web-series, Warrior Women of the Sea Conferences, and a catalyst of change for human development and ocean conservation, Jodi has been a life-long lover of all things water.  Having been a competitive swimmer for 15 years and a provincial level water polo player, her lack of fear of water then took her to white water and ocean tour kayaking and a continued yearning to continue other ocean/water pursuits into her late 40's. Jodi's love for community, conservation (now a board director for Ocean Plastics Foundation Canada)…
Learn more about Jodi Mossop ~ Founder of Barnacle Babes