SwellWomen Mexico Surf & Yoga April #2
With Lulu Agan ~ Chief Officer of Bliss and Katherine Wilder ~ Yoga Instructor
April 23 - 27, 2020
Escape to Punta Mita ~ A Refreshing Twist on Resort Travel
Nestled within the Pacific coast in the Mexican state of Nayarit, Punta Mita is a stunning destination given the area's stunning natural beauty and countless activities and attractions – from seaside marketplaces brimming with Huichol art and crafts to world-renowned dining and terrific outdoor adventures.
Perched on the ocean in the heart of one of Mexico's most gorgeous beaches, we invite you to immerse yourself in a truly remarkable retreat experience.
We've partnered with W Punta de Mita who pays homage to the area's profound cultural history. Here, Colonial grandeur blends seamlessly with the extraordinary artistry of the indigenous Huichol peoples. These elements exist in harmony with a very modern sensibility that extends throughout the W, setting the stage for an unforgettable retreat experience. Light-filled rooms provide a sophisticated oasis on the shores of the Pacific. Laze on a lounge chair at WET Pool and Deck as you enjoy a cool ceviche or indulge in some "me time" at Away Spa. Celebrate the sensuality of South Asian cuisine at Spice Market, Jean-Georges Vongerichten's imaginative restaurant concept.  In between surfing and yoga, let our personal concierge help you book an exciting excursion – or slip away to the beach and enjoy the fine art of doing nothing.
Blessed with consistent swells in the small to medium range, and a regular supply of chest to head waves, Punta Mita offers a range of playful, reef waves, and a classic right point that can be epic on its day.  The surf is ideal for beginners to intermediate and advanced. Our breaks are conveniently accessible via boat trip daily departing from town.
And of course we'll be balancing your day with either juicy flows to prepare you for surf or to restore your body after hours in the water.
Are you ready to escape to escape to paradise?
Your 5 Day Surf & Yoga Retreat in Mexico Includes:
Four night jungle or ocean view 

accommodations

 at a the beautiful  W Punta de Mita
All-inclusive with breakfast, lunch & dinner prepared by an amazing local chefs.
Each participant will receive a Swag Bag which includes a Carve Designs SPF rash guard.
3 x Surf lessons with professional, patient, and knowledgeable surf instructors
Daily yoga classes that focus on opening and strengthening the muscle groups used for surfing or restoring the body after a day of surfing.
Experience harmony and well-being with a professional 60 minute massage.
20% discount for any additional spa services.
Beach Package with daily access to surf, SUP, and snorkel equipment.
Access to the on-site fitness center and wet areas at AWAY spa.
SwellWomen discounted pre and post retreat nights for those that want to extend their stay.
Not included:  RT airfare to Puerto Vallarta, airport transfers to W Punta Mita, beverages, additional excursions.  Gratuities are left to the discretion of the guest and based on their personal experience.
A Very Swell Day
How do we fit so much into one day? By taking care of all the details so that you can truly enjoy your blissful retreat.
7:00am Light Pre-Surf Breakfast
8:00 – 10 am Surf Lessons / Surfing (times dependent on tides / wind)
Up until noon to enjoy gourmet breakfast buffet upon return from surfing
1:00pm Restorative Yoga Session
Lunch whenever you are ready and activities vary in the afternoon to include; free time, afternoon excursions, recreational surfing or SUP, lounging by the pool, massages, naps, etc.
7:00pm Group Dinner
The schedule may change according to surf conditions and other events may be added to your surf and wellness package. Do you need to participate in everything?  We are here to provide many options for you to choose from. If you opt to relax by the pool the entire day or choose to participate in only one activity per day, you will be supported in that decision. It's your surf and yoga retreat, and we are here to accommodate you in whatever choice brings you the highest bliss.
Leaders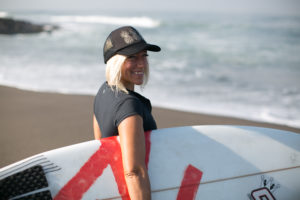 Lulu Agan ~ Chief Officer of Bliss
"Courage doesn't mean you don't get afraid.  Courage means you don't let fear stop you." – Bethany Hamilton Surfing, yoga, cooking and wellness: these 4 passions are what lead Lulu Agan, globe-trotting surfer and yogini, to SwellWomen which launched in 2003. Having spent more than a decade as a Private Chef and more recently getting certified as a Health & Wellness Coach with the Institute of Integrative Nutrition, Lulu cultivates a great knowledge and enthusiasm for top-quality cuisine that promotes glowing health, from the inside out.  As a supportive mentor and wellness authority, she works with clients to help them…
Learn more about Lulu Agan ~ Chief Officer of Bliss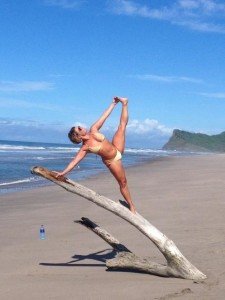 Katherine Wilder ~ Yoga Instructor
YOGA ~ Katherine has been studying yoga since 2001 and has been teaching since 2004. The philosophy and Universal Principles of Alignment of the Anusara Yoga method have had the most influence on Katherine's life, yoga practice, and teaching style, unveiling the deepest experience and understanding of connection between the spirit, mind, & body. It is this understanding that fuels her teachings, Katherine encourages her students to remember the importance of having fun and how to play in the realms of the mind and body liberating the spirit.  She has learned through experience that creating proper alignment in the mind…
Learn more about Katherine Wilder ~ Yoga Instructor