Awaken & Align Yoga Intensive w/ Connie Lozano
With Connie Lozano ~ Yoga Instructor and Lulu Agan ~ Chief Officer of Bliss
June 21 - 27, 2020
Join Connie Lozano in Costa Rica to Tap into Your Inner Bliss!
Fall asleep to the lull of distant waves. Awake to the sunrise and the call of howler monkeys.  As you make your way to the main dining area for breakfast, you're sure to be greeted by wild monkeys, toucans, macaws, sloths and other creatures of the rainforest.
Our bungalows at Osa Clandestina are nestled in the Rainforest Reserve just a 5 minute walk from the beach.  We offer comfortable open-air bungalows with a casual elegance surrounded by lush gardens and a hundred acres of our private rainforest reserve.   All bungalows have ceiling fans (no air-conditioning), private bathroom, and a private terrace with garden & jungle views.
Easily explore uncrowded tropical beaches and winding forest trails, or simply relax in your cabin and wait for the monkeys and macaws to parade through the network of mango and other native fruit trees that front the property.  Whether adventuring or decompressing, we provide a great variety of local, artisanal, and organic fare to nourish body and soul and prepare you for your next discovery.
Connie's classes are an invitation to absorb mind-body-soul nourishment through grounding, opening, and restorative flows.  She will lead a week of intensive yoga that nurtures the mind, body, and soul.  Each morning will start with an all levels vinyasa flow to get your glow on and each evening we'll embark on a journey with either a PlayShop, Exploration, or Yin Yoga.
And of course we couldn't come all the way to Matapalo without throwing in 2 x surf lessons suitable for the absolute beginner or anyone that wants to progress to the next level.    Additionally, many other activities and guided tours can be arranged such as additional surfing, kayaking, horseback riding, sport fishing, hiking, rappelling, even gold panning. Of course, doing "nothing" on your holiday is a luxury in and of itself; a breezy lounge with games, books, and music affords an opportunity to do just that.
Your yoga retreat  is the perfect setting to awaken and align.  Now doesn't that sound blissful?
Your Yoga Retreat in Costa Rica Includes:
6-Night accommodations at the breathtaking Osa Clandestina Sustainable Eco Rainforest Lodge.
Daily meditation & morning Vinyasa Flow classes with PlayShops in the evening
2 x Yoga PlayShops:  Fly High & Open to Possibilities
2 x Explorations in Meditation & Kundalini Yoga.
1 x Yin Style Class
2 x 2 hour group surf lessons
Each participant will receive a Swag Bag including a Carve Designs Rashguard
Daily Farm-to-Table Meals & Non-Alcoholic Beverages
Transfers to and from Puerto Jimenez airport
A Very Swell Sample Day
How do we fit so much into one day? By taking care of all the details so that you can truly enjoy your yoga holiday.
7:00am Meditation & Yoga
9:00am Tyipcal Tico Breakfast
10:00-4:00pm  Lunch is typically around 1pm.   The rest is free time for excursions, exploring, lounging at the beach, massage, naps, etc.  Our surf lessons will be organized around high tide.
4:30pm Evening Yoga PlayShops / Explorations
6:30pm Group Dinner
Leaders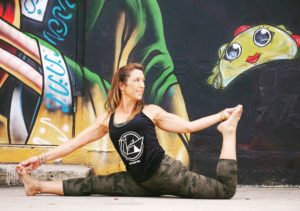 Connie Lozano ~ Yoga Instructor
Joining us all the way from San Antonio, TX, Connie is celebrating 20 years of instructing yoga & meditation.  She teaches with a passion for yoga that is highly contagious.   Her well-earned reputation for balancing humor with the quest for authenticity is truly refreshing, placing emphasis on self awareness and compassion in yoga that can be carried beyond the mat and into daily life. Connie's journey is never ending, always enrolled in life, living and learning something new each day . Her yoga certifications are multiple as is her sharing of studies generous.  She has included the study of  Joytish, Vedic Astrology  and shares Yogastrology®  in her classes and…
Learn more about Connie Lozano ~ Yoga Instructor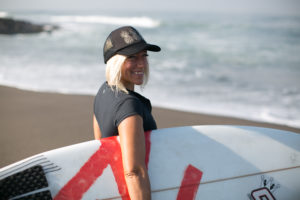 Lulu Agan ~ Chief Officer of Bliss
"Courage doesn't mean you don't get afraid.  Courage means you don't let fear stop you." – Bethany Hamilton Surfing, yoga, cooking and wellness: these 4 passions are what lead Lulu Agan, globe-trotting surfer and yogini, to SwellWomen which launched in 2003. Having spent more than a decade as a Private Chef and more recently getting certified as a Health & Wellness Coach with the Institute of Integrative Nutrition, Lulu cultivates a great knowledge and enthusiasm for top-quality cuisine that promotes glowing health, from the inside out.  As a supportive mentor and wellness authority, she works with clients to help them…
Learn more about Lulu Agan ~ Chief Officer of Bliss