Bali Wellness Retreat w/ SwellWomen & Travel Architects
With Lulu Agan ~ Chief Officer of Bliss and Chris Ritchie ~ Trip Leader
October 18 - 24, 2020
Tranquility Amidst Vibrance
Our Wellness Retreat in Canggu Bali is being run with in partnership with Travel Architects. Chris and Cathy, the owners of Travel Architects, provide a personalized approach to travel, finding that something different to make your holiday extra special. Working together we've found a great new location in Bali to launch our Wellness Retreats. Chris, who was a guest at our Sri Lanka & Rote Surf and Yoga Retreats will be joining us as the Trip Leader.
Bali is consistently voted in the top best islands in the world. It is the dream destination for many, and the epitome of the tropical island idyll. Bali has it all, the hustle and bustle of the city streets combined with an array of natural and spiritual beauty.
Our beautifully appointed retreat villa  is located in the heart of vibrant Canggu, with convenient access to all that this bustling beach town has to offer. The villa is completely hidden away, our own private sanctuary in the middle of it all. Inside the towering privacy walls, you will discover your own paradise oasis for the week, with its 18m pool, separate BBQ area, TV room, library, massage spa & yoga studio, it offers many wonderful spaces, nestled in every area of the estate, where you can sit, relax or mingle as the mood takes you.
Imagine just sitting back to relax, chatting for hours, soaking up the ambiance & the peaceful environment, as the villa is surrounded by rice paddies and is oriented to catch that oh-so-gentle, wonderful, cooling breeze – which is a much-coveted Bali thing!   This tranquil space combines modern design with the natural beauty of Bali for a uniquely elegant style.
Your day will start with a movement practice that combines yoga, pilates, and fitness to get you glowing from the inside out followed by a delicious breakfast for the queens are you.  After breakfast, you'll have free time to adventure out, explore, indulge in spa treatments, lounge by the pool, or do whatever your heart desires.  Afternoons we will gather for group coaching sessions, meditation and restorative yoga.
For those that are in need of a little action, all you have to do is walk outside the walls of our tranquil villa to find the vibrance of the bali streets; hundreds of boutiques, plentiful cafes, excellent coffee, and an abundance of restaurants.
Doesn't sound that sound simply divine?  Book your bliss today & get ready for an amazing week long retreat with SwellWomen & Travel Architects!
Your Boutique Retreat in Bali Includes:
Six glorious nights in our stunning villa with private pool and lush gardens.
Daily breakfast buffet fit for a queen
3 x traditional Balinese dinners with remaining nights free allowing you to explore the abundance of Canggu restaurants right outside our door.
Morning movement classes that focus on opening and strengthening the muscle groups and getting your glow on.
Our Swellness Live Bliss Coaching Program that includes 5 hours of 1:1 and group coaching.
Afternoon meditation & restorative yoga.
Spa Day at our favorite spa
Cooking Class
Swag Bag
Roundtrip airport transportation.
A Very Swell Sample Day
How do we fit so much into one day? By taking care of all the details so that you can truly enjoy your holiday.
7:30am  Meditation & pre-surf yogalates
9:00am  Breakfast Buffet
10:00-4:00pm Enjoy free time, surf lessons, excursions, shopping, lounging by the pool, spa treatments, or finding your bliss in any way you know how
4:30pm Group Coaching & Yoga
6:30pm Group dinner inside the villa or free evening out.
The schedule may change or other inclusions may be added to your wellness package. Do you need to participate in everything? Not at all!  We are here to provide many options for you to choose from. If you opt to relax by the pool the entire day or choose to participate in only one activity per day, you will be supported in that decision. It's your wellness retreat, and we are here to accommodate you in whatever choice brings you the highest bliss.
Leaders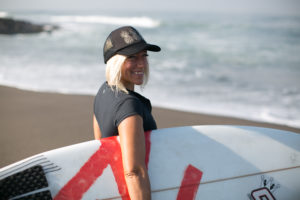 Lulu Agan ~ Chief Officer of Bliss
"Courage doesn't mean you don't get afraid.  Courage means you don't let fear stop you." – Bethany Hamilton Surfing, yoga, cooking and wellness: these 4 passions are what lead Lulu Agan, globe-trotting surfer and yogini, to SwellWomen which launched in 2003. Having spent more than a decade as a Private Chef and more recently getting certified as a Health & Wellness Coach with the Institute of Integrative Nutrition, Lulu cultivates a great knowledge and enthusiasm for top-quality cuisine that promotes glowing health, from the inside out.  As a supportive mentor and wellness authority, she works with clients to help them…
Learn more about Lulu Agan ~ Chief Officer of Bliss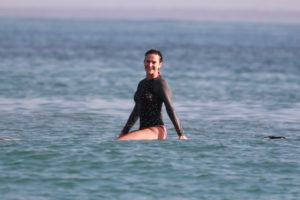 Chris Ritchie ~ Trip Leader
For as long as Chris can remember, she has had a passion for exercise, health and fitness. As a Sydney native she also loves to travel; especially when there are physical activities involved.  After attending two retreats with SwellWomen, she was hooked not only to surfing, but our offering.  So, it made perfect sense for her to join our SwellBliss Team as Trip Leader allowing her to share her gifts with like-minded women. In 1993 Chris swapped her late nights in the Advertising Industry for early mornings in the Fitness Industry, she found it to be a seamless transition as she…
Learn more about Chris Ritchie ~ Trip Leader