El Salvador Surf & Yoga w/ Leadership Coaching (open to men & women)
With Laurel Marshall ~ Trip Leader and Lulu Agan ~ Chief Officer of Bliss
November 22 - 28, 2020
Your Bliss Awaits in El Salvador
Perched on a cliff in front of a world class point break, Puro Surf Hotel and Performance Academy has been set up by a group of surfers that are passionate about the sport of surfing making them the perfect venue partner for SwellWomen.   The team deeply cares about their country and the community they live in and want to share the life they love with you.
Terracing gently down towards the beach, each room has been thoughtfully designed to make the most of the views. Floor to celling sliding glass doors allow you to open your room up to the Pacific Ocean allowing you to be one with your surroundings. The rooms are above all comfortable, with all the amenities that one expects of a luxury hotel.
The Puro Surf Academy is committed to offering the highest standard of coaching to all surfing levels. They see surfing as more than a hobby or lifestyle, it's a sport. Meaning that you will have the support of your coach to take your surfing to any level you desire. They use an integrated approach called the 4 Pillars, not just working with the body but also the mind, preparing you to excel in the sport of surfing which will result in having more fun!
Travel, adventure, wellness, mindfulness have the ability to power personal transformation. Combine this with NeuroLeadership, a Blue Mind – being in, on and around the water and you've got a unique combination to further health, happiness, and elevate your personal best. You will be invited to embark upon your own personal journey, inspired to learn and stretch your thinking through an intentional personal coaching journey crafted specially for SwellRetreats.  You will be guided individually through three sessions (pre and post retreat), to allow you to start the process of dreaming big, setting intentions, cultivating growth, and achieving your vision of your "best self".
Are you ready to to embark on a retreat of a lifetime?
Your 7 Day Surf & Yoga Retreat in El Salvador Includes:
Six night 

accommodations

at a the beautiful Boutique Hotel Puro Surf  located in front of the world class surf break.
All-inclusive food & non-alcoholic beverages prepared by an amazing local chef.

Includes 5 non-alcoholic beverages, 1 breakfast mains, 1 lunch mains, and 3-course dinner daily.

5 x Surf lessons with professional, patient, and knowledgeable surf instructors including 4 video-analysis.
Leadership Coaching Program that includes both 1:1 and group coaching.
Daily yoga classes that focus on opening and strengthening the muscle groups used for surfing & restoring the body after a day of surfing.
Experience harmony and well-being with a professional massage by our on-site therapist.
Each participant will receive a Swag Bag which includes a SPF rash guard.
One photo shoot capturing your surfing highlights.
RT Transportation from the airport to the Puro Surf Hotel.
Note:   Gratuities are left to the discretion of the guest and based on their personal experience.
A Very Swell Day
How do we fit so much into one day? By taking care of all the details so that you can truly enjoy your surf camp vacation.
5:00am Light Pre-Surf Breakfast
6:00 – 8:00 am Surf Lessons / Surfing (times dependent on tides / wind)
Up until 10AM Enjoy breakfast whenever you are done surfing
11:00am Group Coaching & Restorative Yoga Session
12:00-4:00pm Lunch whenever you are ready and activities vary in the afternoon and include; free time, afternoon excursions, recreational surfing, and lounging by the pool, massages, naps, etc.
7:00pm Group Dinner
The schedule may change according to surf conditions, destination or other events that may be added to your surf and wellness package. Do you need to participate in everything? We are here to provide many options for you to choose from. If you opt to relax by the pool the entire day or choose to participate in only one activity per day, you will be supported in that decision. It's your surf and yoga vacation, and we are here to accommodate you in whatever choice brings you the highest bliss.
Leaders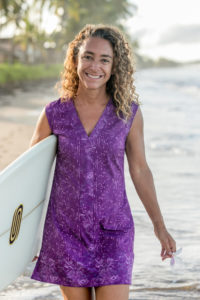 Laurel Marshall ~ Trip Leader
An insatiable curiosity for the unknown.  An addiction to wanderlust and adventure.  A never ending quest for bliss: finding balance, mindfulness and wellness.  A passion to inspire, empower and develop others around her.  A pursuit and love for warm tropical waters and waves.   Welcome to Laurel's inspiration and foundation for personal growth and development.  Somewhere along the way, high up in the Nepalese Himalayas, she fell hard and stumbled deep into others' cultures, collecting over 25 years of experiences, memories and friends while living, working and surfing her way around the world, from San Diego to South Africa; Sydney to…
Learn more about Laurel Marshall ~ Trip Leader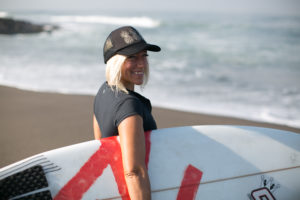 Lulu Agan ~ Chief Officer of Bliss
"Courage doesn't mean you don't get afraid.  Courage means you don't let fear stop you." – Bethany Hamilton Surfing, yoga, cooking and wellness: these 4 passions are what lead Lulu Agan, globe-trotting surfer and yogini, to SwellWomen which launched in 2003. Having spent more than a decade as a Private Chef and more recently getting certified as a Health & Wellness Coach with the Institute of Integrative Nutrition, Lulu cultivates a great knowledge and enthusiasm for top-quality cuisine that promotes glowing health, from the inside out.  As a supportive mentor and wellness authority, she works with clients to help them…
Learn more about Lulu Agan ~ Chief Officer of Bliss